Welcome to AppliedOnline
Thank you for selecting The Agency Manager or The Agency Manager, Vision Series, as delivered through AppliedOnline! This document helps you become familiar with AppliedOnline's requirements, support, and other available resources.
Additional information regarding AppliedOnline, including installation documents referenced in this article, installation program downloads, standard and special maintenance windows, and current system status, can be found on our customer website, http://www.appliedsystems.com.
This document is divided into the following sections:
Hours of Operation
The AppliedOnline system is available for use Monday through Friday from 2:00 a.m. until Midnight Central Time (CT). Between the hours of 12:00 a.m. CT and 2:00 a.m. CT, please refrain from using the system so that backup processes can run without obstruction. Normal weekday maintenance periods will not cause any session connections to be closed. Weekend hours are from 6:00 a.m. CT until Midnight on Saturday and Sunday. Weekend maintenance windows may cause connections to close and reset. Special maintenance periods are published on the Network Status page which can be accessed from the Support tab of the Applied Customer Portal.
Establish a Connection
All workstations require four components for full functionality with AppliedOnline. The components are the Remote client, the Printer client, the Upload Center client and the Virtual Channel client. All four clients are installed with the Remote Connection Installation Package. Specific packages are provided for TAMOnline and VisionOnline for each AppliedOnline data center. These customized installation packages and documentation can be downloaded from the Downloads section of www.appliedonline.net.
Remote Client
The Microsoft Remote Desktop Connection (RDC) client establishes the connection between your local workstation and AppliedOnline. The RDC client can be installed on all Microsoft's currently supported operating systems. The RDC can be configured to launch the AppliedOnline session in a variety of screen sizes, from full screen to 640x480. We recommend full screen mode.
Concurrent Connections
Each AppliedOnline login account is licensed for a single connection to the network. It is a violation of the license agreement to use the same AppliedOnline login account to connect to the network from multiple workstations at the same time.
Printer Client
The AppliedOnline environment uses a universal printer driver, ScrewDrivers by triCerat, to provide printer emulation. The triCerat ScrewDrivers client allows your agency to print using almost any printer from AppliedOnline. This does not, however, mean that all printers are compatible with the TAM or Vision products. For a list of printers supported with those products, please consult the Supported Configurations available at www.appliedsystems.com. The triCerat ScrewDrivers client download and installation documentation are available in the Downloads section of www.appliedonline.net.
Virtual Channel Client
The Applied-designed Virtual Channel client allows third-party products that integrate with The Agency Manager, such as Rating and Premium Finance applications, to work seamlessly with AppliedOnline. The Virtual Channel client allows AppliedOnline integration with the third-party software when it is installed directly on the workstation, accessed through a network drive, or when the software is available through another Remote Desktop Session or Citrix session. The Virtual Channel client download and installation documentation are available under Client Downloads in the Downloads section of www.appliedonline.net.
Upload Center Client
The Applied Upload Center application provides secure and easy transfer of files files quickly from your local drives (e.g., C:\) to your AppliedOnline environment. The Upload Center client download and installation documentation are available under Client Downloads in the Downloads section of www.appliedonline.net.
The AppliedOnline Desktop
Once connected to AppliedOnline, you will see a new desktop or program window on your workstation. A typical desktop will look similar this: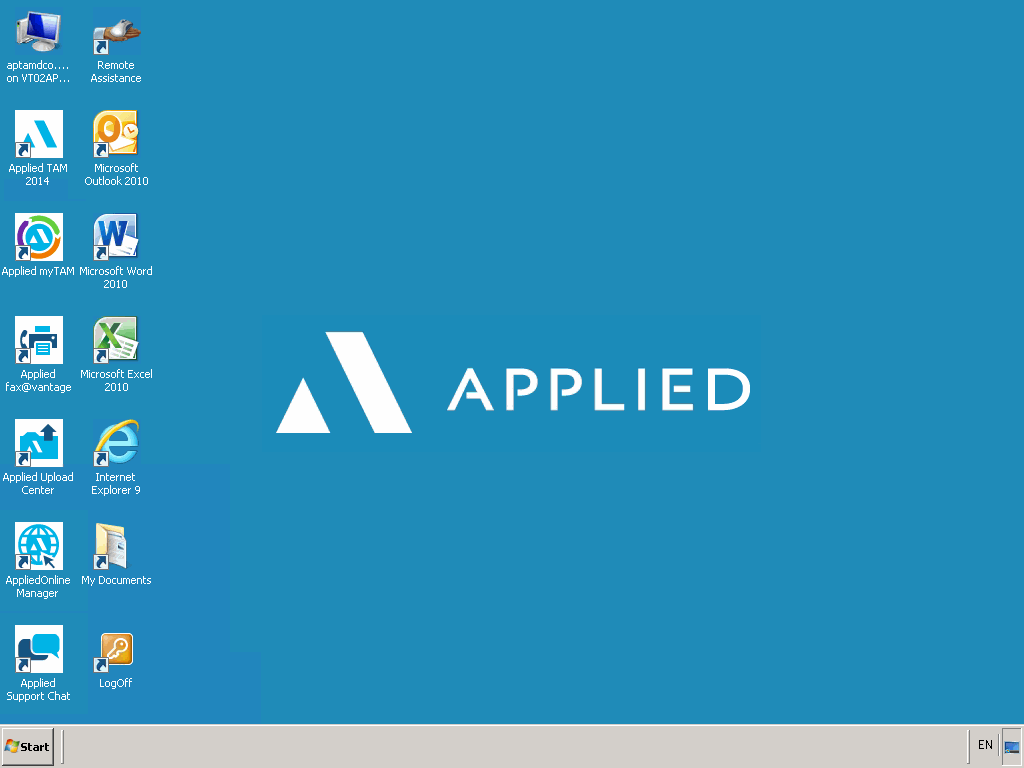 Your actual desktop may vary slightly, with different icons for specific application access or operating system versions. All AppliedOnline desktops have icons for TAM or Vision, My Documents, Applied Support Chat, Microsoft Outlook, Microsoft Word; Microsoft Excel, Microsoft Internet Explorer, fax@vantage, My Computer, and LogOff.
Upload Center
To protect the integrity of the AppliedOnline network, we require that all files be uploaded through our Upload Center. We restrict the types of files that are allowed to transfer, and all files are thoroughly screened during the upload procedure. Documents, images, signatures for forms, and company screens/edits may be transferred to your agency folders. The Upload Center is used to send files to AppliedOnline that are currently only located on your local workstation. Documentation is available at http://www.appliedsystems.com/help/uploadcenter/default.htm.
Image Routing for TAMOnline
The TAM Image Router is another option for sending files to your TAMOnline desktop. This is available to agencies using TWAIN-compliant scanners and the Virtual Channel clieent. The Image Router allows you to attach JPG, TIF, and PCX files directly to a client's file in TAM.
AppliedOnline Manager (AOM)
The AppliedOnline Manager (AOM) gives a designated user at your agency authority over administrative tasks. Access to this utility is granted only to members of your agency who have been designated as "Agency Administrator." AOM can be accessed from the desktop icon, or Start menu. In AOM you can create or disable login accounts, view and interact with active or disconnected user sessions or log sessions off. AOM Documentation is available at: http://www.appliedsystems.com/help/aomhelp/default.htm#default_1.htm
AppliedOnline Notifications
Important system information and updates are periodically sent to your Agency Contacts who are registered in the Applied Customer Portal to receive Technical Bulletins. Please ensure that these contacts have valid email addresses registered in the Applied Customer Portal.
AppliedOnline Connection Optimization
Workstation performance, local network performance, and Internet performance all have an effect on the AppliedOnline experience. Your Internet connection stability and speed are directly affected by your workstation and your local network. There are some steps you can take to make sure your system is optimized for AppliedOnline connectivity. See AppliedOnline Tips, Hints and Basic Troubleshooting for details.
Support
Real-Time Support Help Line: 1-800-999-6512
Access Real-time Support for instant access to a Support Technician. Issues regarding Software, Communications, Forms, fax@vantage, and Accounting all can be handled by a Real-Time Technician
Online Real-Time allows you to text chat with a technician "live" on our website. Technicians are available Monday through Friday at the hours indicated below.
US TAM Support: 7:30 a.m. to 6:30 p.m. CT
Canadian TAM Support: 7:30 a.m. to 6:00 p.m. ET
Vision Support: 7:30 a.m. to 6:30 p.m. CT
Applied Systems Knowledge Base:
If you do not find a resolution to your problem on the Knowledge Base, you can log a call via the KB by accessing http://www.appliedsystems.com/support/resources/customerfeedbackform.asp.
Client Solutions: 1-800-999-5368
Contact Client Solutions for any questions about new products, additional licensing, or any computer purchase needs.
After hours AppliedOnline connection problems
Complete the form at http://www.appliedsystems.com/AppliedOnline/contactus.asp for connectivity problems occurring outside normal support hours.
Last Revised: May 15, 2014 03:06 PM